Welcome to Pacific Rim Labradoodles!
Located on the Southern Oregon Coast in Gold Beach, Gretchen Anthony of Pacific Rim Labradoodles has been a breeder of high-quality miniature and medium labradoodle puppies with excellent temperaments since 2003. Our labradoodle puppies are child-friendly, smart, and loving. Perfect for allergen-sensitive households as they have very light to non-shedding, allergy-friendly coats. We focus our breeding on mini labradoodles and medium labradoodles as they are perfectly sized for your busy family, but occasionally we have a litter of standard labradoodle puppies too! Our 'doodle' puppies have been sold to happy families all over the pacific coast in Washington State, California, Canada, Idaho, Montana, Utah, Nevada, Alaska, and all over the United States. Check out our available labradoodle puppies now!
---
 We have Medium and Miniature Labradoodle Puppies for Sale!
 **************************************
We have puppies ready now…
These small medium labradoodle puppies are available in Laverne's litter born 11-10-17.  They are ready to go home now.  I expect these pups to mature in the 25ish pound range and have gorgeous coats.
Miniature and Medium Labradoodle litters in 2018…
We have miniature and medium labradoodle puppies available in early 2018. 
*********************************
GO TO OUR AVAILABILITY PAGE FOR MORE INFORMATION ON THESE LITTERS.  WE ARE TAKING APPLICATIONS NOW.
---
What's a labradoodle?
A labradoodle is a labrador/poodle cross.  We breed multigeneration Australian labradoodles directly from Australian breeding stock. A multigeneration labradoodle is from generations of crossing labradoodles with other labradoodles. The multigeneration labradoodles are more consistent in appearance and coat type than the first generation crosses of labrador and poodle.
Why get a labradoodle puppy?

Labradoodles are smart, loving, child-friendly dogs.  They have light to non-shedding, allergy-friendly coats, and they do not have the dog smell associated with other breeds.  They are highly trainable, fun loving, family companions. Labradoodles also come in miniature, medium, and standard sizes. We breed all sizes of labradoodles, but concentrate mostly on mini labdradoodles and medium labradoodles with an ocassional litter of large standard size labradoodles. We have found the miniature and medium sized labradoodles to be the perfect size for families on the go. They are wonderful companions and are just the right size for a snuggle on the couch, sleeping at the foot of the bed, or riding in the car running errands.
On a personal note, our family fell in love with labradoodles when we saw what a patient, loyal companion a labradoodle was for our 6 year old son with autism. By breeding labradoodles, it is my hope to provide this type of loving companion for other families.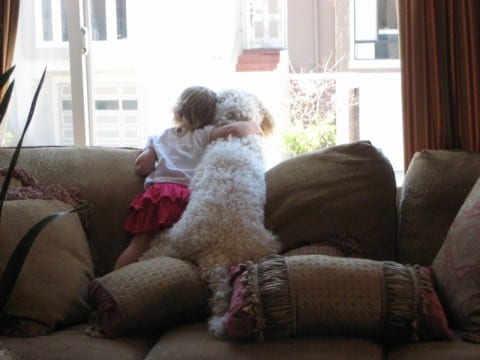 Why choose Pacific Rim Labradoodles?
Located in Southern Oregon, Pacific Rim Labradoodles takes pride in being a very reputable and ethical breeder of Australian and American multigeneration labradoodles.  We are a family that has fallen in love with the labradoodle breed. We began breeding labradoodles in 2003 so that others could experience the joy of labradoodle ownership.  Every  labradoodle puppy  is born and raised at our home.  Our children are the "socialization crew" and our dogs are our family pets.  We are a small Oregon breeder  that believes in quality before quantity.  Our goal is to breed wonderful labradoodle puppies  for companion and family dogs while continuing to advance the labradoodle as a breed.   
All of our breeding stock undergoes genetic testing for soundness of hips and eyes. The temperaments of our breeding dogs is also very important to us . We breed only labradoodles with phenomenal temperaments since the disposition of the parents is the best indicator of the disposition of your puppy. We back up all of our labradoodle puppies with a 2 year genetic health warranty and our continued support for the lifetime of your dog.
We live in a beautiful area on the Southern Oregon Coast, in Gold Beach, Oregon in the heart of Oregon's "banana belt". The climate and low population of our gorgeous oregon coast means that our dogs and puppies have 36 acres of trails and forest land to play on. Our labradoodles are kenneled only for safety issues when necessary.
Our goal is to provide you with a happy, healthy labradoodle puppy and an enjoyable puppy purchasing experience. We look forward to working with you to find you the perfect new addition for your family.
If you have any questions about availability or want information and/or an application, please email for more information.